FOR IMMEDIATE RELEASE
CMH Recognizes First DAISY Award Winner
Tragedy happened all in one day for Kaylea Rucker and her family. Kaylea went in for a normal ultrasound, but this time it revealed the devastating news there was no heartbeat.
FOR THE MEDIA
Contacts:
Tamera Heitz-Peek
417-328-7245
theitz@citizensmemorial.com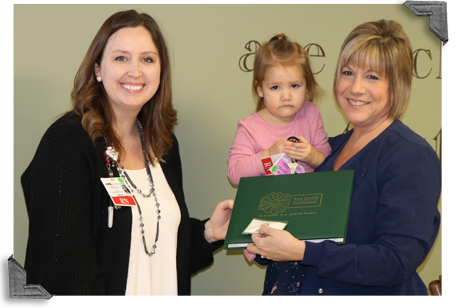 That same evening after hearing the news, Kaylea arrived at the hospital to deliver her baby.
When she arrived at CMH, Labor and Delivery nurse, Cammie Wine, RN, was there to help Kaylea through this difficult time. "Cammie was so welcoming when we got to Labor and Delivery, she showed that she cared and it helped the family knowing we had a nurse who cared," share Amanda Mosher, Kaylea's cousin.
It is because of this sincere care and passion through this hard time that Cammie was nominated for the DAISY Award. Cammie is the first CMH nurse to receive this extraordinary honor. There was a surprise celebration held at CMH to award Cammie on Jan. 29. The presentation was made even more special having the patient and her family in attendance, as well as Cammie's family.
Cammie cared and helped the family in many ways throughout that whole process from coaching Kaylea through the labor, comforting the family, and answering their questions over and over again. "Cammie has a heart of gold and my family and Kaylea appreciate everything she has done," Amanda wrote.
It is special nurses like Cammie who go above and beyond to make a difference in patient's lives. "Cammie is passionate about her job, and you can tell this isn't just a job to her, this is her life," wrote Amanda. "Cammie Wine deserves the DAISY Award a million times! She is an amazing person and an amazing nurse!"
About the DAISY Award
CMH implemented the DAISY Awards in January 2019 to recognize their very own "extraordinary nurses." Cammie Wine was honored as the first ever CMH nurse to receive this heartfelt award. Each month, another nurse will be presented with the DAISY award.
The Daisy Foundation was established in 1999 as a recognition program to thank and honor nurses everywhere. CMH is now one of 3,400 healthcare facilities to implement the DAISY Award into their organization. If you or someone you know would like to submit a DAISY Award nomination, you can do so at: https://www.citizensmemorial.com/patients-and-visitors/daisy-award-nomination.html
For more information about the DAISY Award and Foundation, visit www.daisyfoundation.org
February 04, 2019
Hospital 417-326-6000
Infocenter 417-328-6010, or 1-888-328-6010
1500 North Oakland, Bolivar, Missouri 65613
© 2021 Citizens Memorial Healthcare