FOR IMMEDIATE RELEASE
CMH honors four volunteers with Hutcheson Awards
Citizens Memorial Hospital (CMH) recently recognized Linda Zanatta, Judy Johnson, Judy Wollard and Sue Taylor as the recipients of the 2019 Lillian Hutcheson Award during the annual appreciation luncheon.
FOR THE MEDIA
Contacts:
Tamera Heitz-Peek
417-328-7245
theitz@citizensmemorial.com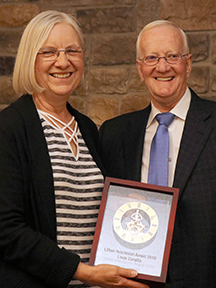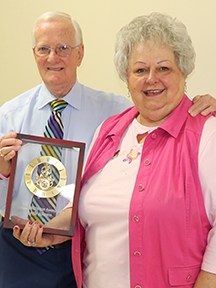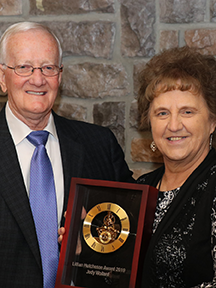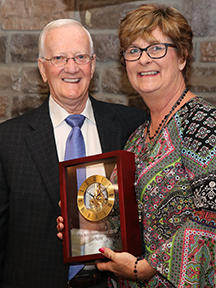 More than 200 CMH Auxiliary members attended the event.
The Lillian Hutcheson Award is given each year to an outstanding volunteer who demonstrates commitment, dedication and compassion to patients, residents and the organization. It is named in honor of Lillian Hutcheson who founded the Auxiliary program before CMH opened in 1982.
"We are so blessed to have so many outstanding Ambassadors at CMH," says Jean Morrow, director of volunteers of CMH. "This year we had so many wonderful nominations that Mr. Babb [CEO/Executive Director] and I could not make a decision, so we decided to present several Lillian Hutcheson Awards for 2019."
Zanatta began volunteering at CMH in January 2006 in the gift shop – the CMH Gift Garden. She also volunteers at the Carrie J. Babb Cancer Center and the Tremain Family Hospitality House. Four years ago she began helping Taylor with the gift shop inventory and learned the new inventory software.
"Linda has been invaluable in her assistance with inventory status reports to assist buyers with their future purchases. She most recently has assumed the responsibility as the Gift Garden Manager and contributes countless hours to CMH in her many roles," Morrow says.
Johnson began volunteering for CMH in May 2012. She has volunteered at the Cancer Center, Douglas Medical Center, and Hospitality House, and polished fingernails for residents at Citizens Memorial Healthcare Facility. But her primary volunteer responsibilities have involved scheduling fundraising events with vendors, recruiting a team of volunteers to help with the sales, and working the fundraising sales for the Auxiliary.
"Judy's enthusiasm and working history with the CMH employees has be a valuable asset in increasing the success of our sales each year," Morrow says.
Wollard began volunteering in August 2008.  She has volunteered at the Cancer Center, Douglas Medical Center, and Hospitality House, and tabulates Ambassador hours.
"Judy accepted the responsibility as treasurer for the Auxiliary nine years ago and more than four years ago she also became treasurer for the Gift Garden. The benefits of her accounting services for the Auxiliary cannot be measured," Morrow says.
Taylor began volunteering in September 2008 on gift shop floral team and has remained on the team for 11 years. Four years ago she became the buyer for the gift shop.
"Sue spends many hours every week placing orders, meeting with vendors, checking in and pricing inventory, arranging displays in the shop as well as continuing to help on the floral team," says Morrow. "She coordinates monthly sales with the manager, and purchases and plans for annual sales such as Valentine's Day and the annual Bazaar."
In 2018 the volunteers worked a total of 46,207 hours, which is a $1 million value to CMH. The Auxiliary also donated more than $90,000 in purchases for the organization last year.
For more information about joining the CMH Auxiliary, call Morrow at 417-328-6432.
May 16, 2019
Hospital 417-328-6000
Infocenter 417-328-6010, or 1-888-328-6010
1500 North Oakland, Bolivar, Missouri 65613
© 2020 Citizens Memorial Healthcare