FOR IMMEDIATE RELEASE
CMH Home Medical Equipment launches new website
Citizens Memorial Home Medical Equipment (HME) has launched its new website this month -- hme.citizensmemorial.com -- that features products, patient education videos, location information and more.
FOR THE MEDIA
Contacts:
Tamera Heitz-Peek
417-328-7245
theitz@citizensmemorial.com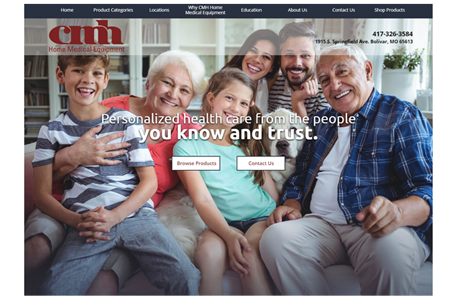 "The website is easy to navigate and patients will be able to view the product catalog, which includes prices for the majority of products available. Our next update will include the ability for patients to purchase and ship products from this online catalog in the near future," says Beverly Derrickson, director of CMH Home Medical Equipment and administrative director of CMH Foundation.
Patients will be able view education videos for some popular home medical devices including the cleaning and caring of CPAP equipment. "Patients may have additional questions or just need a refresher on how to care for their medical equipment. The videos are very helpful and easy to view," says Derrickson.
CMH Home Medical Equipment is owned and operated by CMH Foundation and includes stores in six locations in Ash Grove, Bolivar, Buffalo, Hermitage, Stockton and Warsaw. For more information about CMH HME or the HME website, call 417-326-3584.
July 18, 2019
Hospital 417-328-6000
Infocenter 417-328-6010, or 1-888-328-6010
1500 North Oakland, Bolivar, Missouri 65613
© 2020 Citizens Memorial Healthcare