FOR IMMEDIATE RELEASE
CMH dietitian awarded southwest Missouri 'Recognized Young Dietitian of the Year'
Lynetta Smith, clinical dietitian for Citizens Memorial Hospital, was presented the "Recognized Young Dietitian of the Year" Award for the Southwest District on April 12 in St. Louis by the Missouri Academy of Nutrition and Dietetics.
FOR THE MEDIA
Contacts:
Tamera Heitz-Peek
417-328-7245
theitz@citizensmemorial.com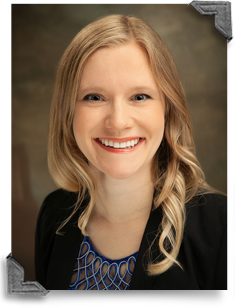 This award is presented to members of the Missouri Academy of Nutrition and Dietetics who are 35 years of age or younger and who have demonstrated leadership qualities and performance in public relations, research, community outreach, management, legislation, education and other areas related to the profession, on the job and in the community.
Smith has been a Registered Dietitian for four years and has worked at CMH for eight months. She earned a Bachelor of Science in dietetics from College of the Ozarks and a Master of Science in family and consumer sciences from Illinois State University. She has worked as a dietitian in public health, acute care and higher education. Smith is the president of the Southwest Missouri Academy of Nutrition and Dietetics.
For more information about nutrition services offered at CMH, call 417-328-6462.
April 18, 2019
Hospital 417-328-6000
Infocenter 417-328-6010, or 1-888-328-6010
1500 North Oakland, Bolivar, Missouri 65613
© 2020 Citizens Memorial Healthcare