FOR IMMEDIATE RELEASE
CMH announces September 2019 DAISY Award winner
Dallas County Family Medical Center RN receives award
FOR THE MEDIA
Contacts:
Tamera Heitz-Peek
417-328-7245
theitz@citizensmemorial.com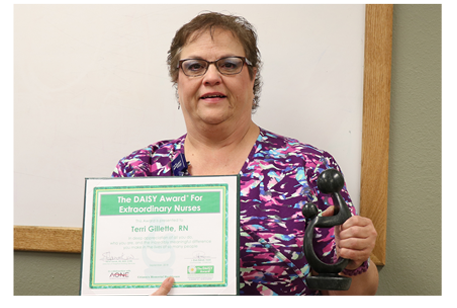 Terri Gillette, RN, with Dallas County Family Medical Center (DCFMC) was named the CMH DAISY Award winner for September 2019. Gillette received the award Sept. 23.
DCFMC is a Citizens Memorial Hospital family medicine clinic in Buffalo, Missouri. Gillette has worked at DCFMC for three years.
Before working for CMH, Gillette had a variety of nursing experiences including medical/surgical, in-home, private duty and travel nursing. Gillette earned her Bachelor of Science in nursing in 2011 from Avila University, Kansas City. She currently lives in Cross Timbers.
Gillette was inspired to become a nurse by her mother, Patricia Jennings, who was a licensed practical nurse.
"My mom is a retired nurse and she is the reason I became a nurse," says Gillette. "I helped her study while she was in school, which got me interested in becoming a nurse. She encouraged me to get my BSN because she stopped at LPN and she encouraged me to go all the way. I'm so glad she did because I have loved being a nurse and I really enjoy it."
Gillette began her nursing career later in life and she encourages new nurses to try and get their education while they are young and to enjoy the experience. Gillette's favorite part of being a nurse is her patients. "I love my patients. I see every patient as someone's family member. They are more than just their illness."
Gillette also loves her co-workers. "I really love working for Dallas County. I love everybody – the medical providers, co-workers and of course my patients," Gillette says. "I just really enjoy being a nurse. It's not a job that I do, it is who I am."
About the DAISY Award
DAISY is an acronym for Diseases Attacking the Immune System. The DAISY Award was established by the DAISY Foundation in memory of J. Patrick Barnes who died at 33 of Idiopathic Thrombocytopenia Purpura (ITP), an auto-immune disease. The Barnes Family was awestruck by the clinical skills, caring and compassion of the nurses who cared for Barnes, so they created this international award to say thank you to nurses everywhere.
CMH implemented the DAISY Awards in January 2019 to recognize their own extraordinary nurses. Each month a CMH or Citizens Memorial Health Care Foundation nurse will be presented with this recognition.
If you or someone you know would like to submit a CMH DAISY Award nomination, go to: http://bit.ly/2vwPyGw. For more information about the DAISY Award and Foundation, visit www.daisyfoundation.org
October 03, 2019
Hospital 417-326-6000
Infocenter 417-328-6010, or 1-888-328-6010
1500 North Oakland, Bolivar, Missouri 65613
© 2021 Citizens Memorial Healthcare