FOR IMMEDIATE RELEASE
CMH announces October 2019 DAISY Award winner
CMH Infectious Disease Clinic RN receives award
FOR THE MEDIA
Contacts:
Tamera Heitz-Peek
417-328-7245
theitz@citizensmemorial.com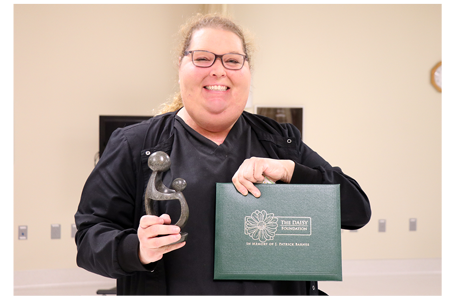 Holly Mitchell, RN, with Citizens Memorial Hospital (CMH) Infectious Disease Clinic, Bolivar, was named the CMH DAISY Award winner for October 2019. Mitchell received the award Oct. 23.
Mitchell has worked at the CMH Infectious Disease Clinic for one year and at CMH for three years. Originally from Texas, Mitchell moved to Bolivar in 1989 and graduated from Bolivar High School.
Before working for CMH, Mitchell worked at Mercy Hospital for 19 years. She earned her Associate of Science in nursing from Southwest Baptist University (SBU) Mercy College of Nursing and Health Sciences in 2000. She is currently pursuing a Bachelor of Science in nursing from SBU.
Patients love Mitchell and nominated her for the DAISY Award three times. "I treat each patient like they are the only important person in my world," says Mitchell. "I don't do nursing for myself, I do it for God. I became saved at 26 years old – just before going to nursing school – and God had plans for me and created me the nurse I am today."
One of the patients who nominated Mitchell for the award said that she trusts her completely.
"Holly has a unique calming voice. I immediately felt that I was in excellent hands. She explained to me in words that I could understand what was going to be the procedure to get me well. She made me feel that I was the most important patient that she had that day. I trust Holly completely to tell me the truth about my condition, good or bad. It is my honor to have Holly as my nurse, but also my friend," the patient said.
Mitchell loves her patients and also her co-workers. "I adore my patients and I love the girls that work here and all the doctors," Mitchell says. "Dr. Fulnecky is so good to work with and he teaches me. Because of him I am ready to go on and get my infectious disease nurse certification."
When asked what advice she would give to new nurses starting their careers, she said they should listen to experienced nurses. "Take advantage of their experience. Listen to them, growth with them and never feel like you are alone because you always have a team. That's the biggest thing," says Mitchell.
Mitchell says that working at CMH is like working in a large family. "It is the closeness and we all just lift everyone up. We want to come to work every day. I just love everybody here," Mitchell says.
About the DAISY Award
DAISY is an acronym for Diseases Attacking the Immune System. The DAISY Award was established by the DAISY Foundation in memory of J. Patrick Barnes who died at 33 of Idiopathic Thrombocytopenia Purpura (ITP), an auto-immune disease. The Barnes Family was awestruck by the clinical skills, caring and compassion of the nurses who cared for Barnes, so they created this international award to say thank you to nurses everywhere.
CMH implemented the DAISY Awards in January 2019 to recognize their own extraordinary nurses. Each month a CMH or Citizens Memorial Health Care Foundation nurse will be presented with this recognition.
If you or someone you know would like to submit a CMH DAISY Award nomination, go to: http://bit.ly/2vwPyGw. For more information about the DAISY Award and Foundation, visit www.daisyfoundation.org
Photo: Holly Mitchell, RN, works at CMH Infectious Disease Clinic in Bolivar. She is the recipient of the October 2019 CMH DAISY Award.
November 04, 2019
Hospital 417-326-6000
Infocenter 417-328-6010, or 1-888-328-6010
1500 North Oakland, Bolivar, Missouri 65613
© 2021 Citizens Memorial Healthcare