FOR IMMEDIATE RELEASE
CMH announces November 2019 DAISY Award winner
Home Health LPN receives award
FOR THE MEDIA
Contacts:
Tamera Heitz-Peek
417-328-7245
theitz@citizensmemorial.com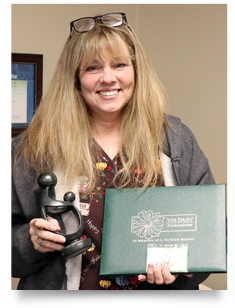 Mendy Manes, a licensed practical nurse with Citizens Memorial Home Care Services in Bolivar, was named the CMH DAISY Award winner for November 2019. Mitchell received the award Nov. 26.
Manes has worked at CMH since graduating with her LPN over 25 years ago and has worked at CMH Home Care Services for 11 years.
Manes was nominated by a family who says that she "did an amazing job both clinically and emotionally" and that she "showed compassion and caring as a nurse."
Manes was the home health nurse for a patient whose favorite pastime was sitting on his front porch watching deer and cattle and enjoying fresh air.
As the patient's family shared in the DAISY nomination, many of Manes' home health visits were made on his front porch. When the patient was hospitalized, Manes told the patient and family that "we just need to get him home to the front porch and he will get better."
As part of the nomination, the family wrote: "When we admitted him to hospice she said, 'make sure he gets front porch time.' That was important to him. When he died she came to his visitation. We truly thought of her as one of our family."
Manes says her patients inspire her and she loves being a part of the home care services team.
About the DAISY Award
DAISY is an acronym for Diseases Attacking the Immune System. The DAISY Award was established by the DAISY Foundation in memory of J. Patrick Barnes who died at 33 of Idiopathic Thrombocytopenia Purpura (ITP), an auto-immune disease. The Barnes Family was awestruck by the clinical skills, caring and compassion of the nurses who cared for Barnes, so they created this international award to say thank you to nurses everywhere.
CMH implemented the DAISY Awards in January 2019 to recognize their own extraordinary nurses. Each month a CMH or Citizens Memorial Health Care Foundation nurse will be presented with this recognition.
If you or someone you know would like to submit a CMH DAISY Award nomination, go to: http://bit.ly/2vwPyGw. For more information about the DAISY Award and Foundation, visit www.daisyfoundation.org
Photo: Mendy Manes, LPN, works at CMH Home Care Services. She is the recipient of the November 2019 CMH DAISY Award.
December 17, 2019
Hospital 417-326-6000
Infocenter 417-328-6010, or 1-888-328-6010
1500 North Oakland, Bolivar, Missouri 65613
© 2021 Citizens Memorial Healthcare