FOR IMMEDIATE RELEASE
CMH announces May 2019 DAISY Award winner
Home Care Services RN receives award
FOR THE MEDIA
Contacts:
Tamera Heitz-Peek
417-328-7245
theitz@citizensmemorial.com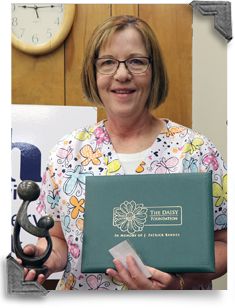 Mary Choate, a registered nurse with Citizens Memorial Home Care Services in Bolivar, was named the CMH DAISY Award winner for May 2019. Choate received the award during a surprise ceremony surrounded by her family and co-workers on May 21.
Choate has been a nurse for 27 years. She worked for CMH for 18 years in labor and delivery and surgery departments and most recently joined CMH Home Care Services in January.
One of Choate's home health patients nominated her for the DAISY Award describing her as an "extraordinary person." The patient specifically requests Choate to care for her and says that she is kind and very good, and listens to her, and that Choate always goes above and beyond in her care.
"I am just overwhelmed," says Choate about the nomination. "I don't deserve it, but I am honored. I just love [my patient] and she is such a sweetheart. I've known [my patient] for a long time and she is very special."
About the DAISY Award
DAISY is an acronym for Diseases Attacking the Immune System. The DAISY Award was established by the DAISY Foundation in memory of J. Patrick Barnes who died at 33 of Idiopathic Thrombocytopenia Purpura (ITP), an auto-immune disease. The Barnes Family was awestruck by the clinical skills, caring and compassion of the nurses who cared for Barnes, so they created this international award to say thank you to nurses everywhere.
CMH implemented the DAISY Awards in January 2019 to recognize their own extraordinary nurses. Each month a CMH or Citizens Memorial Health Care Foundation nurse will be presented with this recognition.
If you or someone you know would like to submit a CMH DAISY Award nomination, go to: http://bit.ly/2vwPyGw. For more information about the DAISY Award and Foundation, visit www.daisyfoundation.org
Photo: Mary Choate, RN, works at CMH Home Care Services. She is the recipient of the May 2019 CMH DAISY Award.
May 30, 2019
Hospital 417-326-6000
Infocenter 417-328-6010, or 1-888-328-6010
1500 North Oakland, Bolivar, Missouri 65613
© 2021 Citizens Memorial Healthcare