FOR IMMEDIATE RELEASE
CMH announces June 2019 DAISY Award winner
Med/Surg LPN receives award
FOR THE MEDIA
Contacts:
Tamera Heitz-Peek
417-328-7245
theitz@citizensmemorial.com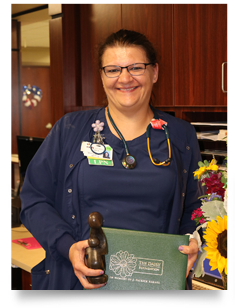 Cyndi Zerbey, a licensed practical nurse with Citizens Memorial Hospital in Bolivar, was named the CMH DAISY Award winner for June 2019. Zerbey received the award June 26.
Zerbey has been a LPN for 25 years. She started her CMH career at Butterfield Residential Care Center and has worked in the Medical/Surgical Department for 18 years.
Zerbey was nominated by the family of a patient who shared, "…Cyndi has that special place in my family. She saw it a privilege to have held the hand of my dying mother, cry with us and talked to my mom and our family about dying with a level of respect and compassion not many will ever see given. I was thankful for the confidence I had in the care that mom would receive when Cyndi was the one giving it. …She not only cares and has a love for patients, but she has the ability to love and care for the family as well."
Zerbey says she was extremely surprised to receive the award. "It is an honor and privilege. It really warms my heart," Zerbey shares.
"My main focus as far as being a nurse is compassion. I think everyone should have compassion. My goal is to make my patients and my patients' families feel as comfortable as they can," Zerbey says.
One piece of advice Zerbey shares with nurses just beginning their careers: "Take time and take care of the patients like you would want yourself or your family members to be taken care of."
About the DAISY Award
DAISY is an acronym for Diseases Attacking the Immune System. The DAISY Award was established by the DAISY Foundation in memory of J. Patrick Barnes who died at 33 of Idiopathic Thrombocytopenia Purpura (ITP), an auto-immune disease. The Barnes Family was awestruck by the clinical skills, caring and compassion of the nurses who cared for Barnes, so they created this international award to say thank you to nurses everywhere.
CMH implemented the DAISY Awards in January 2019 to recognize their own extraordinary nurses. Each month a CMH or Citizens Memorial Health Care Foundation nurse will be presented with this recognition.
If you or someone you know would like to submit a CMH DAISY Award nomination, go to: http://bit.ly/2vwPyGw. For more information about the DAISY Award and Foundation, visit www.daisyfoundation.org
July 11, 2019
Hospital 417-326-6000
Infocenter 417-328-6010, or 1-888-328-6010
1500 North Oakland, Bolivar, Missouri 65613
© 2021 Citizens Memorial Healthcare