FOR IMMEDIATE RELEASE
CMH announces July 2019 DAISY Award winner
Home Care Services LPN receives award
FOR THE MEDIA
Contacts:
Tamera Heitz-Peek
417-328-7245
theitz@citizensmemorial.com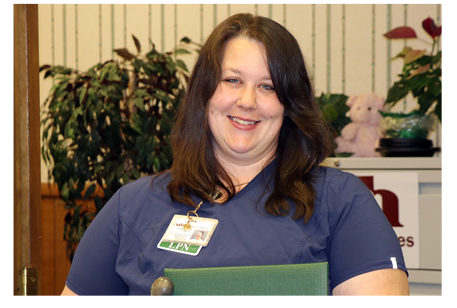 Carah Hicks, a licensed practical nurse with Citizens Memorial Home Care Services in Bolivar, was named the CMH DAISY Award winner for July 2019. Hicks received the award July 30.
Hicks has been a LPN for 11 years. She earned her degree from Rolla Technical Center and has worked for CMH Home Care Services for two years.
Hicks received two nominations. "[Carah] has been the home health nurse for my step-father since he came home after triple bypass surgery and a month in therapy. It is such a blessing to have a nurse like Carah. I can certainly tell that she loves her job. …[She] always has a calm caring manner about her and listing intently to everything he has to say. She explains to us how we can best treat his medical situation when she is not here," the nominator wrote. "She always tells us that we can call her anytime. We love and appreciate her very much."
Hicks was surprised and humbled to receive the award. "This award means the world to me – especially receiving two nominations. That is amazing," Hicks says.
One part of her job that Hicks enjoys the most is being there for her patients. "If I have patients that need a little bit more of my time, I take the extra time out of my day to sit with them and to let them know that they have someone who really cares," Hicks shares.
Hicks offered some advice to new nurses: "As nurses we are trained to take care of patients, but we always have to remember the kindness and compassion that goes with nursing," Hicks says. "No matter how stressful your job is – it will always be crazy – it's knowing that at the end of the day you have done everything you can for your patients."
About the DAISY Award
DAISY is an acronym for Diseases Attacking the Immune System. The DAISY Award was established by the DAISY Foundation in memory of J. Patrick Barnes who died at 33 of Idiopathic Thrombocytopenia Purpura (ITP), an auto-immune disease. The Barnes Family was awestruck by the clinical skills, caring and compassion of the nurses who cared for Barnes, so they created this international award to say thank you to nurses everywhere.
CMH implemented the DAISY Awards in January 2019 to recognize their own extraordinary nurses. Each month a CMH or Citizens Memorial Health Care Foundation nurse will be presented with this recognition.
If you or someone you know would like to submit a CMH DAISY Award nomination, go to: http://bit.ly/2vwPyGw. For more information about the DAISY Award and Foundation, visit www.daisyfoundation.org
August 13, 2019
Hospital 417-326-6000
Infocenter 417-328-6010, or 1-888-328-6010
1500 North Oakland, Bolivar, Missouri 65613
© 2021 Citizens Memorial Healthcare