FOR IMMEDIATE RELEASE
CMH Announces February 2019 DAISY Award Winner
Kayla Spaulding, LPN, with Butterfield Park Medical Center (BPMC) – a Citizens Memorial Hospital (CMH) clinic -- says she was just doing her job.
FOR THE MEDIA
Contacts:
Tamera Heitz-Peek
417-328-7245
theitz@citizensmemorial.com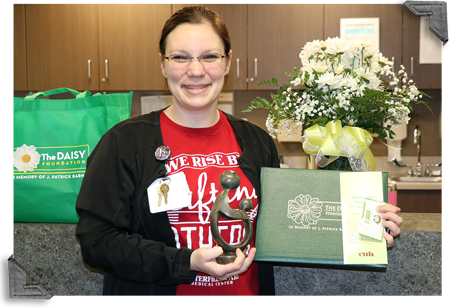 Her patient, Clara LeVita Davis, was very sick with a lung infection and blood clots. Physicians prescribed Davis with three life-saving medications.
"I am on disability and live on a fixed income," Davis says. "These three prescriptions totaled almost $2,000. There was no way that I could continue to take them and my breathing continued to worsen."
Davis tried several different ways to get the medications, but she could still not afford them. "I am not a person to ask for help," Davis says. "I called the office and asked to talk to [my physician's] nurse. I talked with Kayla on the phone and I asked if there was something else I could take as I could not afford the medications."
Spaulding reviewed the medications to look for any substitutions to help Davis.
"I started crying telling Kayla how much I live on a month and how much the medications cost," Davis says. "She spent two hours trying to find ways for me to afford them calling me back every little bit with questions."
Spaulding asked Davis if she had heard of CMH's 403B Drug Pricing Program that helps people with limited incomes receive discounts on drugs purchased for use by CMH outpatients. Davis qualified for the program and helped her complete and submit the paperwork.
"I 100 percent believe that had it not been for Kayla I would be dead now as I could not afford the medications I needed to survive and breathe," Davis says.
Davis nominated Spaulding for the DAISY Award for showing care and extraordinary compassion in helping Davis find a solution to afford her life-saving medications. "She totally deserves this award," says Davis. "I gave her a hug when I picked up the paper for the medications. She will forever be in my heart."
There was a surprise presentation on March 1 to award Spaulding with the DAISY Award. The presentation was made even more special by having Davis and Spaulding's family in attendance.
"In my eyes I owe my life to her because she literally saved my life. I feel she went above and way beyond to help me to do a simple thing as breathe, but it is what I needed."
About the DAISY Award
DAISY is an acronym for Diseases Attacking the Immune System. The DAISY Award was established by the DAISY Foundation in memory of J. Patrick Barnes who died at 33 of Idiopathic Thrombocytopenia Purpura (ITP), an auto-immune disease. The Barnes Family was awestruck by the clinical skills, caring and compassion of the nurses who cared for Barnes, so they created this international award to say thank you to nurses everywhere.
CMH implemented the DAISY Awards in January 2019 to recognize their own extraordinary nurses. Each month a CMH or Citizens Memorial Health Care Foundation nurse will be presented with this recognition.
If you or someone you know would like to submit a DAISY Award nomination, go to: https://www.citizensmemorial.com/patients-and-visitors/daisy-award-nomination.html For more information about the DAISY Award and Foundation, visit www.daisyfoundation.org
March 08, 2019
Hospital 417-326-6000
Infocenter 417-328-6010, or 1-888-328-6010
1500 North Oakland, Bolivar, Missouri 65613
© 2021 Citizens Memorial Healthcare