FOR IMMEDIATE RELEASE
49 teams compete in 29th Annual CMH Golf Classic
Sponsors donate more than $41,000 for the CMH Medical Excellence Scholarship Fund
FOR THE MEDIA
Contacts:
Tamera Heitz-Peek
417-328-7245
theitz@citizensmemorial.com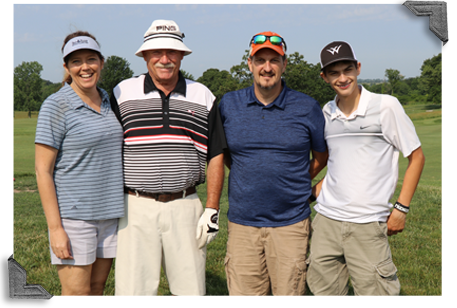 Forty-nine teams gathered for this year's annual Citizens Memorial Health Care Foundation (CMH) Medical Excellence Golf Classic on Saturday, June 1 at Silo Ridge Golf and Country Club in Bolivar. The teams of four competed to raise money for the CMH Medical Excellence Scholarship program.
The CMH Medical Excellence Scholarship provides financial aid to future doctors, nurses and other healthcare professionals. To date, the fund has provided assistance of more than $2.35 million to nearly 450 students.
The tournament featured two shotgun starts at 7:30 a.m. and 1 p.m. Players enjoyed complimentary breakfast, lunch, dinner and snacks at the tournament. At the end of the tournament, teams were placed into one of four flights and ranked from first to fourth.
Championship Flight
In the championship flight, the Hiland Dairy team (Beaman, Mitchell, Johnson and Golmen) took first with a 54; Tyler Johnsen's team came in second (Johnsen, Roberts, Lehr and Johnsen) with a 55; the team of Dunbar, Bishop, Helmers and Niers of Employee Benefit Designs placed third with a 55; and the O'Bannon Bank team of Behrle, Bedin, Brown and McCarthy finished in fourth with 56. 
A Flight
In the A flight, the team of Vestal, Vestal, Forester and Layman took first with 59; the team sponsored by John Best, M.D. (Best, Cribbs, Cribbs and Coutchie) placed second with 59; team Bolivar Technical College (MacLaughlin, MacLaughlin, Holt and Mitchell) grabbed third with 59; and the Creator Designs team (Banner, Banner, Freeman and Brandt) shot 59 to place fourth in the flight. 
B Flight
The team sponsored by Jeffery Smieshek, D.O. (Hastings, Routh, Routh and Routh) led flight B with 63; followed by the team sponsored by Bank of Bolivar (Gregory, Glasgow, Carter and Richter) in second with 63; the team of McKesson (James, James, James and James) in third at 63; and the Commerce Bank team (Henson, O'Mealy, Metcalf and Johnson) in fourth with 64.
C Flight
In flight C, the CMH Radiology team sponsored by John Gamble, M.D. (McClure, Cox, Thiemann and Jones) took top honors with 67; the team sponsored by Brenda's Cafe (Berry, Lemons, Krueger and Kirksey) came in second at 67; The Reinhart FoodService team (Smith, Sutterfield, Daniel and Louderbaugh) took third with 67; and Farmers State Bank (Kallenbach, Gideon, Doke and Shelenhamer) placed fourth at 68.
Each flight's first place team received a set of Titleist Irons, second place team members were awarded a Titleist Driver, third place teams were awarded a Titleist Hybrid, and fourth place team members received a Titleist Wedge from the pro shop. 
"Our sponsors donated close to $42,000 for this year's tournament," says Wren Hall, CMH director of community relations. "None of this would be possible without the support and participation of our amazing sponsors, volunteers and the staff at Silo Ridge Golf and Country Club."
Top tournament sponsor was Reinhart FoodService, donating $5,000 for the golf tournament and the $3,000 sponsor was Ken Stephens of Employee Benefit Design.
Next year's CMH Medical Excellence Scholarship Golf Tournament will be held at Silo Ridge Golf and Country Club on Saturday, June 6, 2020.  For more information about the tournament or to sponsor a team, contact Hall at 417-328-6318. 
PHOTO: The team sponsored by Bolivar Technical College shot a 59 and finished third in the A Flight. Pictured from left: Teresa Holt, Jim Mitchell, Jeremy MacLaughlin and Nathan MacLaughlin.
June 05, 2019
Hospital 417-328-6000
Infocenter 417-328-6010, or 1-888-328-6010
1500 North Oakland, Bolivar, Missouri 65613
© 2021 Citizens Memorial Healthcare