FOR IMMEDIATE RELEASE
CMH hosts Junior Volunteers in summer program
Summer break gives teenagers free time to relax and have fun and also the chance to participate in activities including giving back to their community.  
FOR THE MEDIA
Contacts:
Tamera Heitz-Peek
417-328-7245
theitz@citizensmemorial.com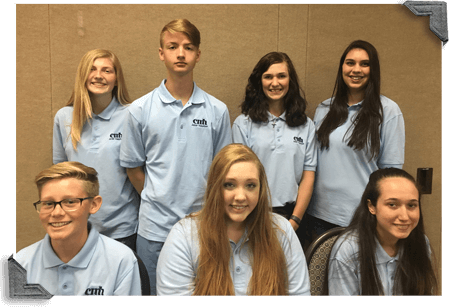 A group of local students are doing that by taking time out of their summer to participate in the Citizens Memorial Hospital and Citizens Memorial Health Care Foundation Junior Volunteer program.
The 2018 CMH Junior Volunteers include students from Bolivar, Fair Play, Humansville, Walnut Grove, and Willard.
The CMH Auxiliary hosts the Junior Volunteer program annually for teens that are at least 15 years old and maintain a B+ or higher GPA.  The session starts in June and runs through August.  Junior Volunteers have many opportunities to work in various aspects of healthcare including local long-term care, rehab departments, outpatient surgery departments, medical/surgical nursing units, intensive care unit, obstetrics department, and the pediatric clinic, as well as the Butterfield Residential Care Center.
"The best thing about this kind of a program is that it offers the students a chance to see what opportunities are available in healthcare," says Jean Morrow, director of the Junior Volunteers Program.  "Another benefit is that they may be able to obtain scholarships for school in the future," said Morrow.
CMH started the program in 2008 with 11 students; 93 students have participated in the program to date.
Applications for the Junior Volunteers program are accepted in April and May. Students must complete an interview process, be accepted into the program, attend a one-day orientation, and volunteer at least eight hours per week during the summer. 
For more information about the CMH Junior Volunteers program, contact Morrow at 417-328-6432.
June 05, 2018
Hospital 417-328-6000
Infocenter 417-328-6010, or 1-888-328-6010
1500 North Oakland, Bolivar, Missouri 65613
© 2020 Citizens Memorial Healthcare