FOR IMMEDIATE RELEASE
CMH hosts 15th annual Burgundy Ball, five awarded Donald J. Babb Awards
During the Citizens Memorial Hospital/Citizens Memorial Health Care Foundation (CMH) Burgundy Ball program at the University Plaza Convention Center on Saturday, Sept. 15, five individuals were recognized for their support of CMH with the Donald J. Babb Award.
FOR THE MEDIA
Contacts:
Tamera Heitz-Peek
417-328-7245
theitz@citizensmemorial.com
The Donald J. Babb Award
Donald J. Babb, chief executive officer/executive director of CMH, has provided visionary leadership to CMH for more than 36 years. Under that leadership, CMH has transformed from a small, acute care hospital into a fully-integrated health care delivery system.
Achieving this vision has taken an immense effort and the support and cooperation of the entire community. Certain individuals stand out in providing that support for CMH and for healthcare services and programs in general. The Donald J. Babb Award recognizes those individuals who have demonstrated interest, involvement and commitment to this same vision. The recipients of the Donald J. Babb Award are unique friends and supporters of CMH and have used their influence and energy to improve healthcare delivery in Bolivar and the surrounding area.
Previous Recipients
Fifty-three individuals have previously received this award including: Wanda Allen; Donald J. Babb; Dennis Boeke, D.O.; Linda Buffington; Steve Butcher, D.O.; Darrol Cribbs; David D. Cribbs; William S. Donnell, M.D.; Kerry Douglas; Ronald A. Evans, M.D.; Gary Fulbright; Charlotte Gray; Brad Gregory; David Hacker, DDS; Linda Harris; Lou Harris, M.D.; Rodney E. Hoover, CRNA; Derek B. Hunter, CPA; Gene Hutcheson; Regina James; Barbara Janzekovich; Monte R. Kahler, M.D.; Karen Keeton;  Kay Long; Alfredo Lopez; William Mathews, D.O.; Denni McColm; Robert McMillan; Debbie McQuay; D. Shelly Meents, M.D.; James L. Molchan, M.D.; Catherine Molder; Bill Monday; Michelle Morris; Jean Morrow; J. Gustavo Nix, M.D.; Russel Payne; Claudia Perez-Tamayo, M.D.; Norman Presley; the late Jim Sells, Ed.D.; Joe B. Shelton; Leo Shunyakov, M.D.; Jeffrey K. Smieshek, D.O.; K. Ronald Smith, M.D.; Mike Stephens; James C. Sterling; Dave Strader; C. Pat Taylor, Ed.D.; Jeffrey R. Tedrow, M.D.; Juanita L. Tremain; Linda Wainscott; the late Wayne Wilson; and Tim Wolters, CPA.
2018 Award Winners
The 2018 Donald J. Babb Award was presented to the following: Brent A. Bartgis, D.O.; Tammy J. Callaway; Timothy W. Francka; Renee Whitman-Teeter; and Louise Wimberly.
Brent A. Bartgis, D.O.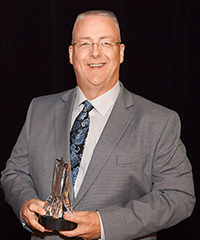 Dr. Bartgis is a board certified general surgeon. He joined the CMH medical staff in 2002. Originally from Oklahoma, Dr. Bartgis worked as an emergency medical technician starting at age 17. He earned an associate degree in nursing from Northeastern Oklahoma A&M College, Miami, Oklahoma in 1987. For the next nine years, Dr. Bartgis was a registered nurse, working the last four of those years while attending medical school.
Dr. Bartgis earned his medical degree from Oklahoma State University College of Osteopathic Medicine, Tulsa. He completed an internship and residency in general surgery at Conemaugh Valley Memorial Hospital, Johnstown, Pennsylvania, which is affiliated with Temple University and Philadelphia College of Osteopathic Medicine. He is a member of the American Board of Surgery.
An active member of the CMH medical staff, Dr. Bartgis has served as chief of staff and on the medical executive committee. He also has served as the trauma medical director for 16 years. Additional activities at CMH include serving on the medical ethics, credentialing, medical education, and information services steering committees. Dr. Bartgis has been recognized as a 417 Magazine "Top Doc" for several years, and has been an Advanced Trauma Life Support instructor for the last six years.
Dr. Bartgis and his wife, Julia, have been married for 32 years, and have four children: Tara Hall, Springfield; Tori Rowse, Bolivar; Eli Bartgis, Springfield; and Josiah Bartgis, Bolivar.
Tammie J. Callaway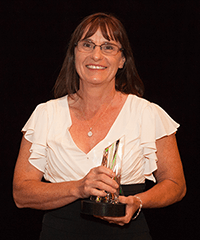 Callaway is administrator of Butterfield Residential Care Center, Bolivar. She started her career at CMH 30 years ago as the director of foundation activities and was promoted to administrator of Butterfield Residential in 2007.
A Bolivar native, Callaway graduated from Bolivar High School in 1982, and was recently inducted into the Bolivar High School Hall of Fame. Callaway earned a Bachelor of Science degree in health, physical education and recreation from Missouri State University and holds a Master of Science degree in health services administration from Southwest Baptist University. 
Callaway was recognized in 2015 with a Springfield Business Journal Long-Term Care Provider Health Care Champion award. She had served on numerous health care boards and was named the Missouri Healthcare Association Member of the Year in 2005. She has been an instructor for the Missouri Health Care Association Activity Director Workshop and an adjunct professor at SBU.
Active in local community groups for years Callaway is a 2015 graduate of Leadership Bolivar, and has been a member of numerous boards and groups including Bolivar R-1 School Board, Bolivar Education Advancement Board, Missouri State Trail Advisory Board, Southwest Missouri Trail Riders, Ozark Trail Association, and GFWC Genesis Club.
Callaway and her husband, Kenny Callaway, have been married for one year. Their blended family includes three children and one granddaughter including: Ashley Pugh, and husband, Zach, Springfield; Cody Martin, and wife, Brena, and their daughter, Joleigh Martin, Bolivar; and Kenna Callaway, Wichita, Kansas.
Timothy W. Francka
Francka is administrative director of long-term care at CMH. A native of Polk County, Francka earned his bachelor's degree in finance and general business from MSU in 1989. Fresh out of college, Francka started his career at CMH as the assistant director of human resources and one year later was promoted to director.
Encouraged to consider a career in long-term care, Francka obtained his nursing home administrator license in 1991. Over the last 27 years Francka has devoted his life to caring for senior adults in southwest Missouri. He was the administrator of Citizens Memorial Health Care Facility for six years and in 1998 became the administrative director and eventually performed dual roles also serving as the administrator for Parkview Health Care Facility in addition to his oversight of the other long-term care facilities.
Francka has served for 21 years on the board for Missouri Health Care Association (MHCA), and is the newly elected MHCA delegate for the American Health Care Association. He has received the MHCA David Duncan Administrator of the Year Award, as well as the MHCA Member of the Year award. Francka has served for 18 years on the Marion C. Early Board of Education and numerus other community groups and clubs including Bolivar Chamber of Commerce, Community Connections, Polk County Advisory Board, and Marion C. Early Booster Club.
Francka and his wife, Beth, have been married for 32 years and have two daughters: Samantha Francka, Springfield; and Tabitha Francka, Springfield.
Renee Whitman-Teeter
Whitman-Teeter is hospital coding supervisor at CMH. She has more than 40 years of experience in various areas of health care including hospital, hospice, home health, public health, and education in both clinical and non-clinical management positions.
Born in Omaha, Nebraska, Whitman-Teeter's father was in the Air Force and Renee traveled around the world living in Germany, France, southern California, northern Maine, and Knob Noster, Missouri. Whitman-Teeter graduated from Burge School of Nursing in Springfield earning her RN degree. She continued her education and earned a Bachelor of Science degree from MSU in 1977.
In 1985, Whitman-Teeter joined CMH and for the last 33 years has worn many hats including infection control manager; swing bed coordinator; employee educator; patient educator; hospice coordinator; medical/surgical supervisor; patient advocate; medical auditor; utilization review coordinator; case manager; performance improvement director; and coding supervisor. She previously served as a Missouri Quality Award examiner for the Excellence in Missouri Foundation, and earned certifications for certified nursing assistant education and outpatient coding. Whitman-Teeter is a board member for the Cox College certified coding specialist program.
Whitman-Teeter and her husband Darien Teeter have been married for 16 years. Their blended family includes four children and two grandchildren: Ben Cox, Los Angeles, California; Lacy Whitman, Springfield; Jessica Sunshine Williams, Nixa; and Matthew Teeter, and his wife, Mindy, and their children Matthew and Maya, Ozark.
Louise Wimberly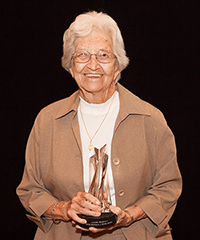 If Bolivar had an ambassador program, certainly the leader would be Wimberly. Born in 1928, Wimberly has called Bolivar home for more than 90 years. She graduated from Bolivar High School in 1946 and worked a year at the Bolivar Free Press, a local Republican newspaper, as a copy reader and office worker. Wimberly left the newspaper to attend Southwest Baptist College, graduating in 1949 with an Associate of Arts degree in business.
After graduation, Wimberly worked briefly for the Polk County Treasurer and then as an office worker for Bolivar Wholesale Grocery Co., for more than three years. On Jan. 1, 1954, she became secretary of First Baptist Church of Bolivar and retired in 1993.
Wimberly is a servant leader. She models community pride by quietly helping those in need. Over the years she has mowed lawns for Bolivar residents who were unable to maintain them, and picked up trash on the city square and surrounding area for more than a decade. She still picks up trash a few times a month in a three-block area near her home.
Although Wimberly retired 25 years ago, she is busy volunteering her time visiting with residents at local CMH long-term care facilities. She also has a standing appointment twice a week visiting with friends at Brenda's Café, volunteers at local blood drives, and is a greeter at First Baptist Church.
Wimberly is a charter member of the local chapter of the Daughters of the American Revolution, is a member of the CMH Auxiliary for over 36 years, and was a member of the local Bolivar civic club known as Twenty Club. She is a member of the SBU 50 Year Club, and received their Life Service Award in 1996, and was given an honorary doctorate in 2015. Wimberly also received the Bolivar Rotary Club Civic Service Award in 2007.
September 19, 2018
Hospital 417-328-6000
Infocenter 417-328-6010, or 1-888-328-6010
1500 North Oakland, Bolivar, Missouri 65613
© 2020 Citizens Memorial Healthcare