FOR IMMEDIATE RELEASE
CMH Hospice to host annual "Heroes for Hospice" 5K/10K Run on May 5
Traffic delays expected on race route
FOR THE MEDIA
Contacts:
Tamera Heitz-Peek
417-328-7245
theitz@citizensmemorial.com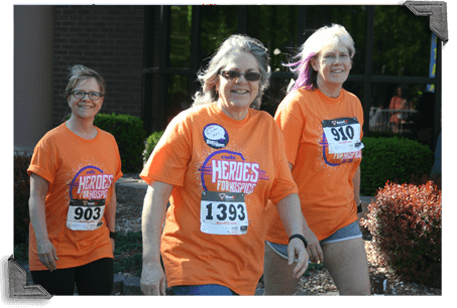 The Citizens Memorial Health Care Foundation's "Heroes for Hospice" 5K/10K Run will take place on Saturday, May 5. More than 300 runners and walkers are expected to take part in the annual event that raises funds for CMH Hospice patients and their families. 
"Over the years, 'Heroes for Hospice' has grown tremendously," says Wren Hall, director of community relations at CMH. "The race attracts runners from all over southwest Missouri." 
Due to the number of race participants, traffic delays around the hospital and Dunnegan Park are to be expected from 8:30 a.m. until 10:30 a.m. the day of the race.           
"We want to thank the community, ahead of time, for their patience as our race participants leave the hospital campus, weave through neighborhoods, cross Highway 83 and conclude around Dunnegan Park," she says. "We have wonderful support from the city, Bolivar Police Department as well as event volunteers who will help direct traffic and keep our participants safe and the event running smoothly. And, if you're along the race route, feel free to cheer on our racers!" 
Both courses will begin in front of the CMH Community Rooms and will conclude with a loop around Dunnegan Park.  The race begins at 8:30 a.m. and will be electronically timed for accuracy.  Medals will be awarded to overall male and female in both races, first place male and female winners in each age division and oldest and youngest "hero."  Participants dressed as their favorite superhero is encouraged!
Registration is $30. Runners can also register the day of the event until 8 a.m. On-line registration closes May 1. All registrations are nonrefundable.
Participants can register at http://conta.cc/2mUKs2e or at citizensmemorial.com. All ages and levels of physical activity are encouraged to attend.  Walkers, strollers and pets are welcome!
CMH Hospice caregivers strive to help patients remain as comfortable as possible at home, or in a homelike setting, with family and friends.  The program also provides support to the family after a death of their loved one through a bereavement program.  Proceeds from the race will provide donations in our area to ensure that physical, emotional, spiritual and bereavement care is given to all terminally ill patients and their families. 
For more information on the "Heroes for Hospice" 5K/10K Run, contact the CMH Information Center at 417-328-6010 or 888-328-6010 or citizensmemorial.com.
April 30, 2018
Hospital 417-328-6000
Infocenter 417-328-6010, or 1-888-328-6010
1500 North Oakland, Bolivar, Missouri 65613
© 2020 Citizens Memorial Healthcare