FOR THE MEDIA
Contacts:
Tamera Heitz-Peek
417-328-7245
theitz@citizensmemorial.com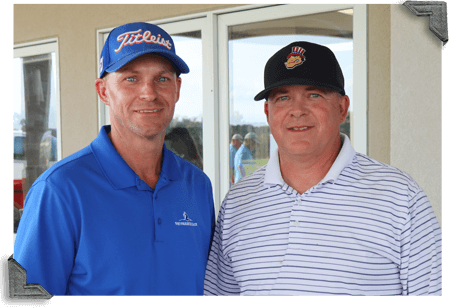 Forty-nine teams gathered for this year's annual Citizens Memorial Health Care Foundation (CMH) Medical Excellence Golf Classic on Saturday, June 2 at Silo Ridge Golf and Country Club in Bolivar. The teams of four competed to raise money for the CMH Medical Excellence Scholarship program.
The CMH Medical Excellence Scholarship provides financial aid to future doctors, nurses and other healthcare professionals. To date, the fund has provided assistance of more than $2.3 million to more than 450 students.
The tournament featured two shotgun starts at 7:30 a.m. and 1 p.m. Players enjoyed complimentary breakfast, lunch, dinner and snacks at the tournament. At the end of the tournament, teams were placed into one of four flights and ranked from first to fourth.
Championship Flight
In the championship flight, the Creator Designs' team (Banner, Banner, Brandt and Lotz) took first with a 52; Tyler Johnson's team came in second (Johnson, Angus, Lehr and Johnson) with a 53; the team of Ballowe, Beaman, Elliott and Golmen of Hiland Dairy placed third with a 55; and the team of Hale, Hale, Berhle and Ford finished in fourth with 55. 
A Flight
In the A flight, the team of Wilson, Rose, Asby and Asby took first with 61; the team sponsored by Southwest Baptist University (Credille, Clardy, Schriver and Kirksey) placed second with 61; Bryant, Barnes, Packard and Cody grabbed third with 61; and the team of Heim, Young and Associates (Davolt, Elton, Miller and Hale) shot 62 to place fourth in the flight.  
B Flight
The Employee Benefit Design team (Stephens, McIntyre, Smith and Francka) led flight B with 64; followed by the team sponsored by Star Wholesale Supply (Baker, Jones, Bryant and Cox) in second with 64; the team of John Gamble, M.D. (Cox, McClure, Thiemin and Hay) in third at 64; and Mark Bult, M.D.'s team (Bult, Dorman, Bates and Munch) in fourth with 64.
C Flight
In flight C, the John Best, M.D. team (Best, Cribbs, Loggan and Stepp) took top honors with 67; the team sponsored by Larry Snyder and Company (Retherford, Mauck, Thomassee and Volentine) came in second at 68; The SGC Foodservice team (Smith, Triplett, Stockton and King) took third with 68; and Farmers State Bank (Henenberg, Medley, Doke and Shelenhamer) placed fourth at 69.
Each flight's first place team received a set of Titleist Irons, second place team members were awarded a Titleist Driver, third place teams were awarded a Titleist Hybrid, and fourth place team members received a Titleist Wedge from the pro shop. 
"Our sponsors donated nearly $43,000 for this year's tournament," says Wren Hall, CMH director of community relations. "None of this would be possible without the support and participation of our amazing sponsors, volunteers and the staff at Silo Ridge Golf and Country Club."
Top tournament sponsor was Reinhart Food Service, donating $5,000 for the golf tournament, and the $3,000 sponsor was Ken Stephens of Employee Benefit Design.
Next year's CMH Medical Excellence Scholarship Golf Tournament will be held at Silo Ridge Golf and Country Club on Saturday, June 1, 2018.  For more information about the tournament or to sponsor a team, contact Hall at 417-328-6318. 
PHOTO: The team sponsored by Creator Designs took first place with a 52 in the Championship Flight at the 28th Annual CMH Medical Excellence Golf Tournament on June 3 at Silo Ridge Golf and Country Club, Bolivar. Pictured from left: Darin Banner and Dwain Banner.
June 05, 2018
Hospital 417-328-6000
Infocenter 417-328-6010, or 1-888-328-6010
1500 North Oakland, Bolivar, Missouri 65613
© 2020 Citizens Memorial Healthcare