FOR IMMEDIATE RELEASE
2018 King and Queen of Hearts Announced
Citizens Memorial Hospital (CMH) Cardio-Pulmonary Rehabilitation recently named Ron McIntire (Bolivar) and Linda Tracy (Wheatland) as "2018 King and Queen of Hearts" and F. W. Haralson (Bolivar) and Nadine Hendrickson (Bolivar) as "2018 Pulmonary Prince and Princess" during an annual patient luncheon for current and past cardio-pulmonary rehab participants.
FOR THE MEDIA
Contacts:
Tamera Heitz-Peek
417-328-7245
theitz@citizensmemorial.com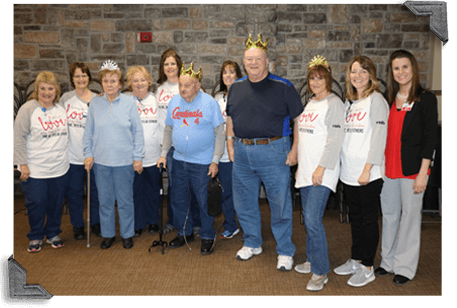 Pictured from left: (Back) Jill Randles, RT; Anne Bristow, RT; Karma Murr , RN; Amber Spear, RT; and Michelle Lenz, RN. (Front) Nadine Hendrickson; F.W. Haralson; Ron McIntire; Linda Tracy; Krissy Stockton, RT; and Jenna Hicks, RN.
February 12, 2018
Hospital 417-328-6000
Infocenter 417-328-6010, or 1-888-328-6010
1500 North Oakland, Bolivar, Missouri 65613
© 2020 Citizens Memorial Healthcare