FOR IMMEDIATE RELEASE
McColm appointed to government health information technology advisory committee
Gene L. Dodaro, comptroller general of the United States and head of the U.S. Government Accountability Office (GAO), recently announced that Denni McColm, chief information officer (CIO) for Citizens Memorial Hospital/ Health Care Foundation, is one of 15 appointments to the new Health Information Technology (HIT) Advisory Committee.
FOR THE MEDIA
Contacts:
Tamera Heitz-Peek
417-328-7245
theitz@citizensmemorial.com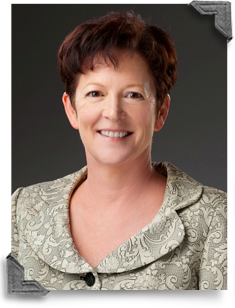 "It is extremely valuable to have a range of perspectives and expertise in helping the government address challenges related to health information technology," Dodaro said. "GAO received nominations for many highly qualified individuals and I'm pleased to announce this first round of appointments to the HIT Advisory Committee."
"This committee is really important in making recommendations to the Office of the National Coordinator of HIT, which influences the policies and standards that are applied to hospitals and physicians through meaningful use and other HIT programs," says McColm.
Newly appointment members will serve for one-, two-, or three-year terms. All members may be reappointed for subsequent three-year terms. McColm is appointed for a two-year term.
McColm has been at CMH since 1988, serving as director of human resources and director of finance before moving into the CIO role in June 2003. McColm currently serves on the American Hospital Association (AHA) Health IT Network and on the AHA Interoperability Advisory Group, on the Missouri Hospital Association HIDI (Hospital Industry Data Institute) Strategic Advisory Committee, on the National Advisory Board for the Health Record Bank Alliance, and on the Medical Users Software Exchange (MUSE) Leadership Committee. McColm has served on numerous boards and committees in the past, including the KLAS Advisory Board, HIMSS Davies Awards of Excellence Organizational Selection Committee, and the Board of Directors for Medical Users Software Exchange (MUSE). She holds a master of business administration degree from the University of Missouri, Columbia.
The 21st Century Cures Act, enacted in December 2016, established the HIT Advisory Committee and gave the Comptroller General responsibility for appointing several of the members. The committee will provide recommendations to the National Coordinator f or Health Information Technology on policies, standards, implementation specifications, and certification criteria relating to the implementation of a health information technology infrastructure that advances the electronic access, exchange, and use of health information.
Citizens Memorial Hospital is located in Bolivar, Mo., and serves Cedar, Dade, Dallas, Hickory, northern Greene, Polk and St. Clair Counties. In addition to hospital services, CMH consists of 32 primary care and specialty care physician clinics, Senior Health Center, and rehabilitation services. Citizens Memorial Health Care Foundation includes six long-term care facilities, one residential care facility, five independent living communities, homemaker plus, home health, hospice, health transit services, and home medical equipment.
CMH was awarded the prestigious Davies Award of Excellence by the Health Information and Management Systems Society, and has been recognized for its innovative efforts associated with its organizational patient electronic medical record system. CMH was also named a Most Wired Innovator and Most Wired, and was named one of the Top 10 Rural Hospitals in America. CMH is one of the 10 largest employers in southwest Missouri, and is a two time Missouri Quality Award recipient (2014 and 2010), which is modeled after the coveted Malcom Baldrige National Quality Award.
The Government Accountability Office, known as the investigative arm of Congress, is an independent, nonpartisan agency that exists to support Congress in meeting its constitutional responsibilities. GAO also works to improve the performance of the federal government and ensure its accountability to the American people. The agency examines the use of public funds; evaluates federal programs and policies; and provides analyses, recommendations, and other assistance to help Congress make informed oversight, policy, and funding decisions. GAO provides congress with timely information that is objective, fact-based, nonideological, fair, and balanced. GAO's commitment to good government is reflected in its core values of accountability, integrity, and reliability.
August 07, 2017
Hospital 417-328-6000
Infocenter 417-328-6010, or 1-888-328-6010
1500 North Oakland, Bolivar, Missouri 65613
© 2019 Citizens Memorial Healthcare