FOR IMMEDIATE RELEASE
John Best, M.D., receives MHA hero award
John F. Best, M.D., FACP, FACC, FSCAI, board certified cardiologist at Citizens Memorial Hospital, was recently named a "Missouri Hospital Hero" by the Missouri Hospital Association.
FOR THE MEDIA
Contacts:
Tamera Heitz-Peek
417-328-7245
theitz@citizensmemorial.com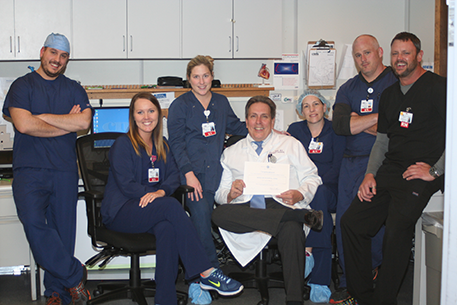 The award is given to a Missouri hospital employee who has been recognized for their service to their patients, hospital and community. The CMH Heart Institute Clinic and Dr. Best are rated 4.6 out of 5 stars by their patients. To learn more, visit citizensmemorial.com.
CMH Cath Lab Staff (L-R): Robert Richardson; Breanna Ledford; Mollie Taylor; Dr. John F. Best; Kelly Ornelas; Bryan Inman; and Jason Hopkins
April 05, 2017
Hospital 417-328-6000
Infocenter 417-328-6010, or 1-888-328-6010
1500 North Oakland, Bolivar, Missouri 65613
© 2019 Citizens Memorial Healthcare