FOR IMMEDIATE RELEASE
CMH to break ground July 5 for new long-term care facility in Stockton
Citizens Memorial Health Care Foundation will hold a ground breaking ceremony on Wednesday, July 5 at 3 p.m. for the new Lake Stockton Healthcare Facility. 
FOR THE MEDIA
Contacts:
Tamera Heitz-Peek
417-328-7245
theitz@citizensmemorial.com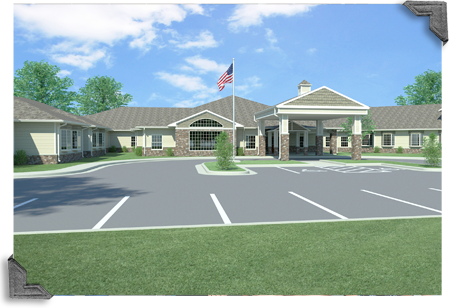 The ceremony will be held in the parking lot of Stockton Family Medical Center, 1521 South Third Street, Stockton.
The 50,292 square foot replacement facility will be built on 11.2 acres as part of CMH Stockton Medical Plaza, which also includes Stockton Family Medical Center, Stockton Rehabilitation Clinic, and Stockton Home Medical Equipment. The building design for Lake Stockton Healthcare Facility will embrace a new concept in senior living called person-centered care.
"We are extremely excited about this new 90-bed replacement facility," says Donald J. Babb, Chief Executive Officer of Citizens Memorial Hospital and Executive Director of Citizens Memorial Health Care Foundation. "This will be a new way to look at how skilled care is provided in long-term care with a more homelike atmosphere. I think this will be an outstanding facility and as we design other long-term care facilities in the future, they will be designed similarly."
Construction is scheduled to begin mid-July and is expected to cost $8.1 million. Larry Snyder & Co., Ozark, was selected as the contractor for the project, and Larry D. Nelson, Springfield, is the architect. Funding for construction is provided through a loan from the U.S. Department of Agriculture. The project is expected to be completed in 14 months.
"In addition to the new Lake Stockton facility, we also plan to build an independent living community similar to what we built in El Dorado Springs, Ash Grove, Buffalo, and Bolivar," says Babb. "It allows residents the opportunity to maintain their independence while living close to healthcare services." The Lake Stockton Senior Living Community will be managed by Lake Stockton Healthcare Facility.
Lake Stockton Healthcare Facility, previously Stockton Nursing Home, merged with CMH Foundation in September 2011. It is one of six long-term care facilities owned and operated by CMH with additional locations in Ash Grove, Bolivar, Buffalo, and El Dorado Springs, Mo. CMH also operates one residential care facility in Bolivar.
Lake Stockton Healthcare Facility currently is a 75-bed Medicare and Medicaid certified skilled nursing care facility. It also has a special care unit for residents with Alzheimer's disease and other types of dementia, inpatient and outpatient rehabilitation services including physical, occupational and speech therapy. Kevin Costello is the administrator of the facility since 1989.
For more information about the expansion project, call CMH Marketing Department at 417-328-7245.
June 30, 2017
Hospital 417-328-6000
Infocenter 417-328-6010, or 1-888-328-6010
1500 North Oakland, Bolivar, Missouri 65613
© 2019 Citizens Memorial Healthcare