FOR IMMEDIATE RELEASE
World-class adaptive snowboarder Amy Purdy featured entertainer at CMH 13th annual Burgundy Ball Sept. 17
Para-athlete champion, actress, model and dancer  Amy Purdy  will headline Citizens Memorial Hospital/Citizens Memorial Health Care Foundation's 13th annual Burgundy Ball. 
FOR THE MEDIA
Contacts:
Tamera Heitz-Peek
417-328-7245
theitz@citizensmemorial.com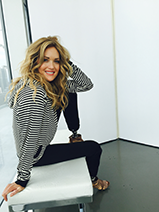 The community appreciation event is scheduled for Saturday, Sept. 17 at 6 p.m., at the University Plaza Convention Center, 333 S. John Q. Hammons Parkway, Springfield.  Reinhart Food Service is the presenting sponsor of the evening.
Hundreds of people from Bolivar and the surrounding communities are expected to attend the event. Previous speakers have included Lee Ann Womack, Ken Schrader, Roy Firestone, Amy Grant, Henry Winkler, Kyle Petty, Vicki Lawrence, Sugar Ray Leonard, Carl Edwards, Ozzie Smith, Anne Jillian and Kevin Sharp.  Proceeds from auctions support programs and services for patients and their families at the Carrie J. Babb Cancer Center at CMH (CJBCC) including the Tremain Family Hospitality House, located across from CJBCC. 
About Burgundy Ball Entertainer Amy Purdy
At 19, after experiencing flu-like symptoms, Purdy was rushed to the hospital in a state of septic shock. En route, she experienced respiratory and multiple organ failure, which caused her to lose circulation to her extremities. When she entered into the hospital she was given less than a 2 percent chance of survival, put on life support and placed into a coma.
After multiple blood transfusions, and the removal of her ruptured spleen, doctors diagnosed Purdy with Meningococcal Meningitis, a vaccine preventable bacterial infection. Due to the lack of circulation she had suffered, doctors had to amputate her legs below the knee. She later received a donated kidney from her father a week before her 21st birthday.
After going through this life-altering experience, Purdy challenged herself to move on with her life and attain goals that even those who have both legs struggle to achieve. Just three months after her kidney transplant, Purdy entered the USASA National Snowboarding Championship where she won medals in three events. Today, she is one of the top ranked adaptive snowboarders in the world, and was the 2014 Paralympic bronze medalist. She is the only double-leg amputee competing at the world-class level.
Purdy has evolved into a powerful inspirational and motivational speaker who has literally been seen by millions of people and invited to share her story to audiences around the world. Purdy's story and images have been featured in numerous national and international publications, and in 2012 she and her longtime boyfriend, Daniel Gale, raced around the world on CBS's The Amazing Race. In May of 2013, Purdy was named by the International Olympic Committee as one of the top 15 most marketable para-athletes in the world.
Although Purdy has numerous accomplishments, she is most proud of co-founding Adaptive Action Sports. Created in 2005, AAS is a non-profit organization that helps those with permanent disabilities get involved in action sports. AAS has partnered with ESPN and runs "adaptive" action sport competitions at the summer and winter ESPN X Games. These events were instrumental in getting adaptive snowboarding added to the 2014 Paralympic Games.
In the spring of 2014, Purdy inspired millions of fans with her stunning performances on ABC's Dancing With The Stars, eventually becoming the show's runner-up. Purdy has a clothing line partnership with Element Eden and has authored her first book, On My Own Two Feet.
Purdy's latest adventure is sharing her remarkable story alongside Oprah Winfrey, as part of Oprah's The Life You Want Tour.
About Carrie J. Babb Cancer Center
In addition to medical oncology, hematology and radiation oncology, support services are available at CJBCC. These services include social services, nutritional services, massage therapy, breast prosthetic fittings, patient resource library, support groups and a variety of programs such as Look Good Feel Better, Reach to Recovery and others provided by the American Cancer Society.
CJBCC is staffed by Leo Shunyakov, M.D., and Abhishek Kumar, M.D., both board certified in medical oncology, hematology and internal medicine, and board certified radiation oncologists Garry Brown, D.O., M.S., and Claudia Perez-Tamayo, M.D.
For more information about the CMH Burgundy Ball, contact Wren Hall at 417-328-6318 or facebook/CJBCCatCMH.
June 29, 2016
Hospital 417-328-6000
Infocenter 417-328-6010, or 1-888-328-6010
1500 North Oakland, Bolivar, Missouri 65613
© 2018 Citizens Memorial Healthcare