FOR IMMEDIATE RELEASE
New medical clinic under construction for El Dorado Springs
Citizens Memorial Hospital began construction this summer on a new 5,600 sq. ft. family medicine clinic in El Dorado Springs. 
FOR THE MEDIA
Contacts:
Tamera Heitz-Peek
417-328-7245
theitz@citizensmemorial.com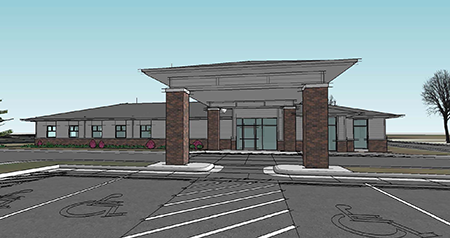 The facility will cost nearly $1 million and is located on the same campus as Community Springs Healthcare Facility, one of six CMH long-term care facilities in the area.
The CMH El Dorado Springs Medical Center will include family medicine, behavioral health, X-ray and a lab, and will have 12 exam rooms. "Construction is on schedule and framing is underway," says Chuck Mauck, director of plant facilities at CMH. "We should have the roof installed by mid-September and then HVAC, electrical and plumbing work can begin."
H Design Group of Springfield is the architect and Bailey Pyle Builders of Rogersville is the general contractor for this project. The facility is expected to be completed in December 2016.
August 15, 2016
Hospital 417-328-6000
Infocenter 417-328-6010, or 1-888-328-6010
1500 North Oakland, Bolivar, Missouri 65613
© 2018 Citizens Memorial Healthcare