FOR IMMEDIATE RELEASE
CMH offers Sports Performance Enhancement program
Do you want to transform your body during the off-season and become faster, stronger, and more flexible?
FOR THE MEDIA
Contacts:
Tamera Heitz-Peek
417-328-7245
theitz@citizensmemorial.com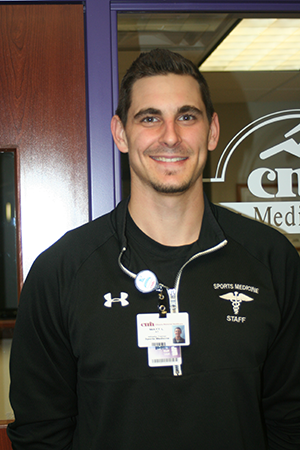 Area athletes are invited to join the Citizens Memorial Hospital Sports Medicine Center "Sports Performance Enhancement" program starting in May. The program targets agility, speed, reaction, mobility, strength, power, flexibility, and jumping.
Led by Certified Athletic Trainer Matthew Loyd, AT, the Sports Performance Enhancement program trains total athleticism while adding a sports specific element to training through a functional movement screening (FMS), Olympic-style lifting, power lifting, speed and agility drills, and jumping and landing drills.
Loyd is certified in FMS and played four years of collegiate athletics. He graduated from Central Methodist University with a degree in athletic training and is working on a master's degree in athletic training from Missouri State University. Loyd is on staff at CMH Sports Medicine Center,  located in the Meyer Wellness and Sports Center on the campus of Southwest Baptist University in Bolivar.
Testing the Athlete
Each athlete is screened using the FMS system, which helps to identify each athlete's functional movement limitations. "The screening is used as a lens to view movement quality. It helps to identify areas of injury risk with symmetry patterns," says Loyd. "Our goal is to get participants moving better and more frequently. "
After screening, the athlete is placed on a specific performance enhancement program to help improve his/her athleticism and lower his/her risk of a sport-related injury. "It doesn't matter if you are a seasoned athlete or a weekend warrior, we care about getting you physically ready for the demands of your sport," shares Loyd.
The program will be offered weekdays in May, June and July. High school students are 2 – 3 p.m., middle school and younger 3:30 – 4:30 p.m. and adults will meet 5 – 6 p.m. Cost is $80 per month or $220 for three months.
For more information or to register for the CMH Sports Performance Enhancement program, contact the CMH Sports Medicine Center at 417-777-7763.
PHOTO: Matthew Loyd, AT
March 14, 2016
Hospital 417-328-6000
Infocenter 417-328-6010, or 1-888-328-6010
1500 North Oakland, Bolivar, Missouri 65613
© 2018 Citizens Memorial Healthcare