Jamie Jones promoted to CMH ICU director
Jamie Jones, RN, became the Intensive Care Unit director at Citizens Memorial Hospital in June. Her promotion to that role makes her the second generation of her family to serve in the role. Her mother, Shawna Miller, RN was the assistant director of the ICU from 2000-2003 and director from 2003-2006.
Jones never thought she wanted to work in nursing leadership. However, her view of nursing leadership began to change when she started working at CMH five years ago.
"The amount of support I have been shown from not only the ICU staff but all hospital staff and from Chad Garner, director of nursing, and Sarah Hanak, chief nursing officer, has made me realize I just might actually have what it takes to not only do this job but do it well and be successful," she said. "I am so excited to grow and learn and see where this journey takes me."
Jones remembers sitting in the ICU breakroom eating graham crackers and drinking Sprite while her mom finished her work. Her mom, who now works as a nurse at the CMH Infusion Clinic, also inspired her to become a nurse.
"I used to love coming by the hospital with her," Jones said. "I didn't know a lot about her job at the time, but I got a sense she was important and it made me proud. I knew nursing was a career to be proud of, and I grew up knowing I would be a nurse, too. I never put any thought into any other career path. I knew I wanted to follow in her footsteps."
Jones earned an Associate of Science in nursing from Southwest Baptist University and a Bachelor of Science in nursing from Southeast Missouri State University. She has 13 years of experience as a registered nurse with most of that experience working in an ICU. She has worked in CMH's ICU since 2018 as a charge nurse and preceptor for new hires and student nurses.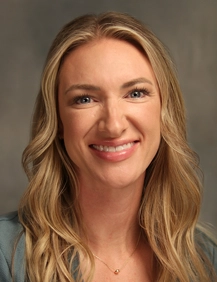 Jamie Jones, RN