Community Springs and Lake Stockton facilities receive national quality award
Community Springs Healthcare Facility and Lake Stockton Healthcare Facility received the 2023 Bronze Commitment to Quality Award. The American Healthcare Association and National Center for Assisted Living (AHCA/NCAL) gives the award to facilities that meet standards for quality and service. The CMH Foundation owns and operates both facilities.
The award is part of the AHCA/NCAL's National Quality Award Program. The comprehensive and organizational assessment and recognition program recognizes long-term care providers demonstrating a dedication to quality and service. The awards will be presented Oct. 3 at the AHCA/NCAL national convention and expo in Denver, Colorado
"We are beyond excited that Community Springs and Lake Stockton received the Bronze Award this year," said Chris McBratney, administrator of Lake Stockton Healthcare Facility and CMH administrative director for long-term care west. "All seven of our facilities are now Bronze Award recipients out of only 44 facilities in the state with the recognition. I am so proud of the tremendous effort by the staff to provide the quality of care these awards recognize."
Modeled after the core values and criteria of the Malcolm Baldrige Performance Excellence Program, the AHCA/NCAL National Quality Award Program is a rigorous three-level process that is reviewed and judged by trained experts in Baldrige Performance Excellence standards. Providers are nationally recognized for achieving each award level and progressively joining the ranks of the best in long-term care.
CMH Foundation owns and operates six long-term care facilities and one residential care center in Ash Grove, Bolivar, Buffalo, El Dorado Springs and Stockton.
Visit citizensmemorial.com or call 417-328-6731 for more information about CMH long-term care facilities.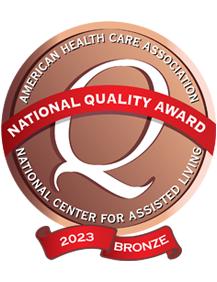 AHCA/NCAL Bronze Commitment to Quality Award
Related Stories