Cathy Graham, CNA, named February 2023 CMH TULIP Award winner
Cathy Graham, a certified nursing assistant for nursing support staff at Citizens Memorial Hospital, was named the February 2023 CMH TULIP Award winner.
Established in June 2021 by CMH and Citizens Memorial Health Care Foundation, the TULIP Award is a recognition program for outstanding caregivers who assist in direct patient care.  
Graham earned her CNA license from Nevada Regional Technical Center in 1989. She has worked for CMH for 15 years, and for the last nearly three years, she has worked on the nursing support staff team.
Graham was nominated for this award by one of her patients for the compassionate care she provided.
The nomination read, "She was very genuine and if she said she would come back with items or information, she always did. I felt like my roommate and I were top priority to her."
Graham was excited to receive the award. "It's outstanding," she said. "It's made me feel appreciated… and I'm glad I was able to help [the patients]."
Graham also acknowledged all of CMH's nursing staff and departments. As a member of the nursing support team, Graham works in many different departments within the hospital and said each of the departments have tremendous teamwork. "I love all the nurses here at the hospital."
About the TULIP Award
Citizens Memorial Hospital/Citizens Memorial Health Care Foundation created the TULIP Award to recognize outstanding caregivers who assist in direct patient care.
TULIP stands for Thoughtful, Unforgettable, Lasting Impact on Patient Care. The award committee selects one honoree each month who exemplifies the following characteristics:
Goes above and beyond in providing exceptional care and unforgettable service to patients/residents.
Demonstrates exceptional skills in the delivery of compassionate patient/resident care.
Exemplifies the mission, vision and values of CMH/CMH Foundation.
Demonstrates a caring, thoughtful attitude.
Is an outstanding role model for other nursing, medical assistants and technicians.
The TULIP Award is given in conjunction with the DAISY Award for Extraordinary Nursing. If you or someone you know would like to submit a CMH TULIP Award, go to http://bit.ly/3zJxOYj.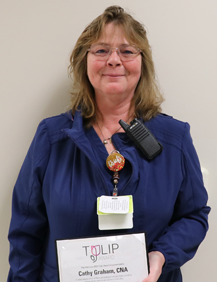 Cathy Graham, CNA