CMH announces December 2022 CMH TULIP Award winner
Sue Storment, a certified respiratory therapist technician at Citizens Memorial Hospital Pulmonology Clinic, was named the December 2022 CMH TULIP Award winner.
Established in June 2021 by CMH and Citizens Memorial Health Care Foundation, the TULIP Award is a recognition program for outstanding caregivers who assist in direct patient care.
Storment began working for CMH in 1982 in environmental services. After receiving her respiratory therapy technician license from the California College of Respiratory Therapy in 1986, she began working in the CMH Pulmonology Clinic.
She was nominated for the TULIP award by a fellow CMH employee who was a patient of Storment that received expert care and compassion while in her care.
The nomination explained how Storment not only performed the tasks for the pulmonary function test, but explained in detail each step, gave time for the patient to rest, and encouraged and reassured her throughout the test.
"She was engaged about my case and what I was facing next. If that all wasn't wonderful enough, she asked me if she could pray with me before I left, and we prayed together. CMH is full of people who are both competent and excellent clinically, as well as those who are gentle, sweet, caring and kind. Sue is at the top of both of these categories, and we are lucky to have her at CMH."
Storment was shocked and grateful to receive the award and enjoys working at CMH because "It's like a family."
About the TULIP Award
Citizens Memorial Hospital/Citizens Memorial Health Care Foundation created the TULIP Award to recognize outstanding caregivers who assist in direct patient care.
TULIP stands for Thoughtful, Unforgettable, Lasting Impact on Patient Care. The award committee selects one honoree each month who exemplifies the following characteristics:
Goes above and beyond in providing exceptional care and unforgettable service to patients/residents.
Demonstrates exceptional skills in the delivery of compassionate patient/resident care.
Exemplifies the mission, vision and values of CMH/CMH Foundation.
Demonstrates a caring, thoughtful attitude.
Is an outstanding role model for other nursing assistants, medical assistants and patient care technicians.
The TULIP Award is given in conjunction with the DAISY Award for Extraordinary Nursing. If you or someone you know would like to submit a CMH TULIP Award, go to http://bit.ly/3zJxOYj.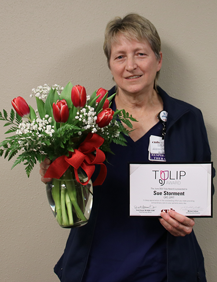 Sue Storment, RT, CMH Pulmonology Clinic