Amber Letterman, RT, named January 2023 CMH TULIP Award winner
Amber Letterman, a radiologic technologist in the Citizens Memorial Hospital Radiology Department, was named the January 2023 CMH TULIP Award winner.
Established in June 2021 by CMH and Citizens Memorial Health Care Foundation, the TULIP Award is a recognition program for outstanding caregivers who assist in direct patient care. 
Letterman earned her radiologic technologist degree from St. John's School of Radiologic Technology in 2001. She began working for CMH Radiology Department in 2013 and has over 20 years of MRI experience.
Her supervisor nominated her for the TULIP award for her outstanding dedication to patient care.
The nomination explained how Letterman "Always prioritizes the patients, even if that means staying late, missing lunch or giving up her day off," said her supervisor.
The supervisor continued by giving an example of Letterman's dedication to her patients. "Amber gave up her day off [Jan. 2] in order to keep the patients from waiting. Amber has also worked through her lunch many times to accommodate urgent patients. She has worked tirelessly to keep the patient schedule updated and as full as possible."
When asked how it feels to receive the award, Letterman said she is excited and very surprised but thankful to be appreciated. "It means a lot," she said.
Letterman also acknowledged her co-workers, saying, "We all work so well together. I like all my co-workers … and love the community at CMH."
About the TULIP Award
Citizens Memorial Hospital/Citizens Memorial Health Care Foundation created the TULIP Award to recognize outstanding caregivers who assist in direct patient care.
TULIP stands for Thoughtful, Unforgettable, Lasting Impact on Patient Care. The award committee selects one honoree each month who exemplifies the following characteristics:
Goes above and beyond in providing exceptional care and unforgettable service to patients/residents.
Demonstrates exceptional skills in the delivery of compassionate patient/resident care.
Exemplifies the mission, vision and values of CMH/CMH Foundation.
Demonstrates a caring, thoughtful attitude.
Is an outstanding role model for other nursing assistants, medical assistants and patient care technicians.
The TULIP Award is given in conjunction with the DAISY Award for Extraordinary Nursing. If you or someone you know would like to submit a CMH TULIP Award, go to http://bit.ly/3zJxOYj.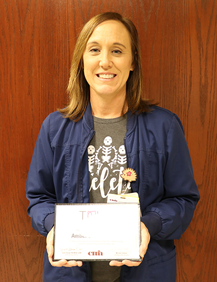 Amber Letterman, RT, CMH Radiology Department