FOR IMMEDIATE RELEASE
First CMH baby of the year born Jan. 1
The first 2019 baby born at Citizens Memorial Hospital arrived on New Year's Day. Baby Waylon Perry Honeycutt arrived on Jan. 1 at 5:02 p.m., and is the son of Autumn Witham and Richard Honeycutt of Dunnegan.
FOR THE MEDIA
Contacts:
Tamera Heitz-Peek
417-328-7245
theitz@citizensmemorial.com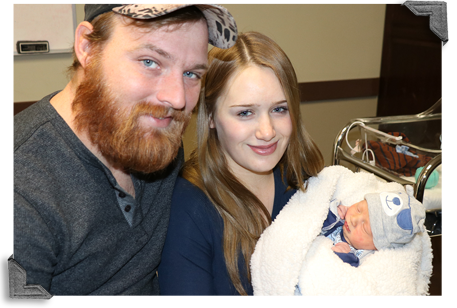 He weighed 7 pounds, 9 ounces and measured 22 inches long. Gabrielle Guhl, M.D., with Butterfield Park Medical Center, delivered the baby.
Waylon has had many visitors and well-wishers including his older half-brothers Hayden, Jaden and Abel Honeycutt, as well as several grandparents including Joe and Elle Biron and Ricky and Brenda Honeycutt all from Humansville, and great grandparents Donald and Laura Witham, and Hazel Yoachum also from Humansville.
Autumn says that the baby made his debut a few days early – his due date was originally Jan. 4. The early entrance was perfect timing for a New Year's celebration, and Waylon received a stuffed animal and blanket to help celebrate his special day.
Photo: Richard Honeycutt, Autumn Witham and Waylon Honeycutt
January 03, 2019
Hospital 417-328-6000
Infocenter 417-328-6010, or 1-888-328-6010
1500 North Oakland, Bolivar, Missouri 65613
© 2020 Citizens Memorial Healthcare