FOR IMMEDIATE RELEASE
CMH therapist completes certification in ergonomics assessment
Citizens Memorial Hospital (CMH) announces that Robert Behnke, DPT, CEAS, CECE, has completed certification as an ergonomics assessment specialist II.
FOR THE MEDIA
Contacts:
Tamera Heitz-Peek
417-328-7245
theitz@citizensmemorial.com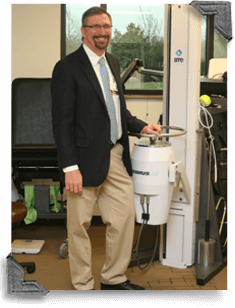 Behnke is a physical therapist and clinic manager for CMH inpatient and outpatient rehabilitation services locations in Bolivar and specializes in occupational health.
CMH Rehabilitation Services offers a comprehensive approach to occupational health, which emphasizes preventing injuries and maintaining a healthy environment. Through an integrated program design, therapists not only treat work-related injuries, but also proactively identify the source of those injuries and aid employers in developing strategies to help reduce injuries in the future. The program includes post-offer employment testing, education, on-site evaluations, functional capacity evaluations, work conditioning, fit for duty exams, workstation analysis and specialty exams such as Department of Transportation and other employer requested exams.
Behnke completed his doctorate of physical therapy at Missouri State University, Springfield. He is a certified Matheson Functional Capacity Evaluator and certified Occupational Performance Center Physical Capacity Evaluator.
For more information on 
CMH Rehabilitation Services
and
occupational health services
, call
417-328-6453
.
January 24, 2018
Hospital 417-328-6000
Infocenter 417-328-6010, or 1-888-328-6010
1500 North Oakland, Bolivar, Missouri 65613
© 2019 Citizens Memorial Healthcare