FOR IMMEDIATE RELEASE
CMH helps parents with car seat safety
Certified car seat technicians provide education and hands-on assistance
FOR THE MEDIA
Contacts:
Tamera Heitz-Peek
417-328-7245
theitz@citizensmemorial.com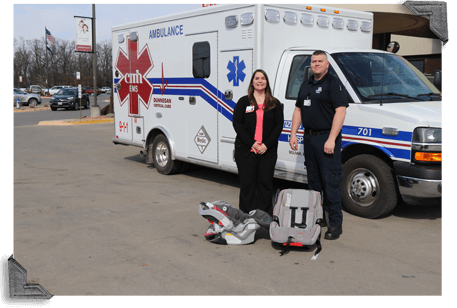 Citizens Memorial Hospital now offers complimentary car seat and booster seat education and hands-on assistance. Alicia Zacher, R.N., CMH emergency department assistant director and trauma program manager and Daniel Zacher, EMT, CMH pre-hospital services, are both certified safety technicians by the National Highway Traffic Safety Administration (NHTSA).
"Understanding car seat safety should be a top priority for parents and caregivers," says Alicia Zacher. "Car crashes are the leading cause of death for children ages 1 to 13. CMH is dedicated to conducting child safety seat checks where we can teach hands-on assistance for proper use of child restraint systems and safety belts."
Certified car seat technicians can assist with installing a car seat and booster seat correctly; provide education on NHTSA's car seat recommendations based on a child's age and size; and provide safety information as well as car seat inspections. CMH partners with Bolivar City Fire Department and Polk County Health Center on car seat safety. Walk-ins at all locations are welcome, but appointments are preferred. CMH will offer free car seat inspections at the hospital's Baby Fair on Saturday, April 28 from 9 a.m. until noon in the CMH Community Rooms, 1500 N. Oakland, Bolivar. No appointment is necessary at the event.
For more information or to make an appointment for a car seat inspection with CMH, call 417-328-6663.
PHOTO: Danial and Alicia Zacher, CMH pre-hospital and CMH emergency department, are certified car seat technicians by the National Highway Traffic Safety Administration. CMH offers free car seat and booster seat education and assistance.
March 13, 2018
Hospital 417-328-6000
Infocenter 417-328-6010, or 1-888-328-6010
1500 North Oakland, Bolivar, Missouri 65613
© 2020 Citizens Memorial Healthcare