FOR IMMEDIATE RELEASE
Wilson recognized as ANFP Member of the Year
Penny Wilson, CDM, CFPP, nutritional services manager at Parkview Health Care Facility, was named the Association of Nutrition and Foodservice Professionals (ANFP) Member of the Year on April 20.
FOR THE MEDIA
Contacts:
Tamera Heitz-Peek
417-328-7245
theitz@citizensmemorial.com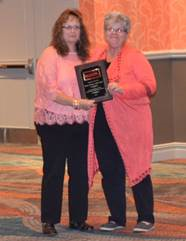 Wilson received this award at the Missouri ANFP State Spring Conference in Booneville.
"Penny is truly one of a kind. She has committed nearly 30 years to CMH and PVHCF," says Tim Francka, administrative director of Parkview Health Care Facility. "She is one of those dedicated individuals that goes above and beyond and truly loves what she does. She takes on all responsibilities with a passion to do all she can for her residents and her co-workers. Penny is truly deserving of this recognition and we are proud that she is a part of our CMH family."
"I have never asked anything of Penny in the past 20 plus years of membership that she didn't go above and beyond to do. She is a dedicated member of the organization and presents programs for the organization at the state and district level along with her co-worker Margaret Fish, CDM, CFPP," says Cathy Wheatley, CDM, CFPP, ANFP state president, "Her dedication to the organization shows in her day-to-day job and life."
ANFP has more than 400 members on the state level and more than 14,000 on the national level. 
Parkview Health Care Facility is a 78-bed long-term care facility located in Bolivar, Mo. It is owned and operated by Citizens Memorial Health Care Foundation.>For more information about Parkview Health Care Facility and its services, call 417-326-3000 or go to citizensmemorial.com.
May 04, 2017
Hospital 417-328-6000
Infocenter 417-328-6010, or 1-888-328-6010
1500 North Oakland, Bolivar, Missouri 65613
© 2019 Citizens Memorial Healthcare