FOR IMMEDIATE RELEASE
Safe Sitter Class Participants
Eleven students recently completed the Safe Sitter course at Citizens Memorial Hospital (CMH).
FOR THE MEDIA
Contacts:
Tamera Heitz-Peek
417-328-7245
theitz@citizensmemorial.com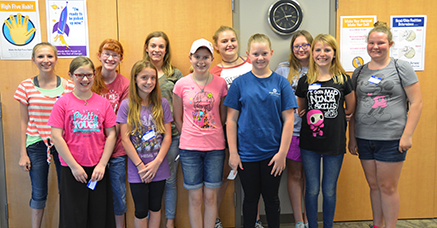 The free class is a national program that teaches youth life and safety skills for when they are home alone, watching younger siblings or babysitting. CMH offers the class during the summer for area students in grades 6 – 8. For more information, visit citizensmemorial.com.  Pictured from left: (Back row) Kayla Caufield; Hannah Burchett; London Seiner; Mackenzie Frank; Alyssa Irvin and Anna Barger. (Front row) Abigail Berns; Emily Dickey; Lily Berns; Annabelle Ingram and Abagail Frank.
June 02, 2017
Hospital 417-328-6000
Infocenter 417-328-6010, or 1-888-328-6010
1500 North Oakland, Bolivar, Missouri 65613
© 2019 Citizens Memorial Healthcare