FOR IMMEDIATE RELEASE
CMH named to Springfield Business Journal's 2017 Dynamic Dozen
Citizens Memorial Hospital/Citizens Memorial Health Care Foundation was named to Springfield Business Journal's 2017 Dynamic Dozen, honoring the 12 fastest-growing companies in southwest Missouri.
FOR THE MEDIA
Contacts:
Tamera Heitz-Peek
417-328-7245
theitz@citizensmemorial.com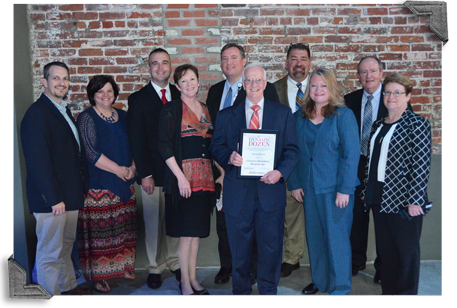 CMH was ranked 10th in this year's awards program. This is the ninth consecutive year that CMH has been named a Dynamic Dozen honoree.
The Dynamic Dozen companies honored, in rank order, include:
Sun Solar, LLC (Springfield);
Little Sunshine's Playhouse & Preschool Inc. (Springfield);
Hamra Enterprises (Springfield);
Russell Cellular Inc. (Battlefield);
Phoenix Home Care Inc. (Springfield);
GigSalad (Springfield);
Prime Inc. (Springfield);
Haven Healthcare LLC (Springfield);
CoxHealth (Springfield);
Citizens Memorial (Bolivar);
Jack Henry & Associates Inc. (Monett); and
Pearson-Kelly Office Products LLC (Springfield).
Rankings for the Dynamic Dozen companies were announced at a May 11 reception and awards ceremony at The Old Glass Place in Springfield. 
Photo Caption: Representing CMH at the Dynamic Dozen awards program includes CMH employees: (left to right) Jeremy MacLaughlin, Lesa Stock, Michael Calhoun, Denni McColm, Jeff Miller, CMH CEO/Executive Director Donald J. Babb, Tim Francka, Valerie Noblitt, Gary Fulbright, and Beverly Derrickson. Not pictured: Wren Hall, Foundation Board Member Dave Berry, and Hospital Board Chairman David Hacker.
May 22, 2017
Hospital 417-328-6000
Infocenter 417-328-6010, or 1-888-328-6010
1500 North Oakland, Bolivar, Missouri 65613
© 2019 Citizens Memorial Healthcare