FOR IMMEDIATE RELEASE
CMH honors volunteer with the Lillian Hutcheson Award
Citizens Memorial Hospital (CMH) recently recognized Natalie Quennoz as the recipient of the 2017 Lillian Hutcheson Award.
FOR THE MEDIA
Contacts:
Tamera Heitz-Peek
417-328-7245
theitz@citizensmemorial.com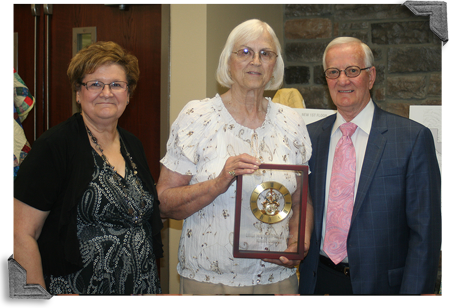 Quennoz was presented the Lillian Hutcheson Award, which is named in honor of Lillian Hutcheson who founded and led the Auxiliary program even before CMH opened in 1982 until her retirement in 2001, by Donald J. Babb, CMH chief executive officer/executive director.
Since August 2004, Quennoz has been an active hospital volunteer.  According to Jean Morrow, director of volunteers, in just less than 13 years, Quennoz has volunteered more than 9,000 hours to provide companionship and service to hospital patients and their families. "Natalie has been a faithful volunteer, working in central sterile and the heart center. Her favorite job every year has been making Christmas stockings for newborns to go home in during the month of December," says Morrow.
At CMH, volunteers make an enormous difference in the everyday lives of patients. If you are interested in being a part of this vital group, call the CMH Information Center at 888-328-6010 or 417-328-6010.
May 30, 2017
Hospital 417-328-6000
Infocenter 417-328-6010, or 1-888-328-6010
1500 North Oakland, Bolivar, Missouri 65613
© 2019 Citizens Memorial Healthcare