FOR IMMEDIATE RELEASE
Bolivar High School volleyball makes donation to Carrie J. Babb Cancer Center at CMH
The Bolivar High School volleyball team recently donated $400 to the Carrie J. Babb Cancer Center at Citizens Memorial Hospital.
FOR THE MEDIA
Contacts:
Tamera Heitz-Peek
417-328-7245
theitz@citizensmemorial.com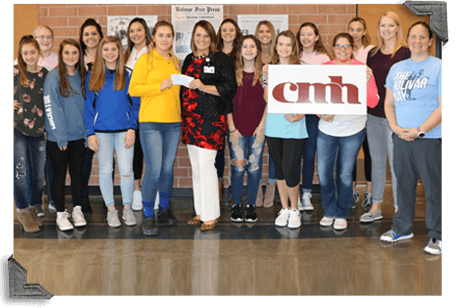 The contribution was made possible from donations collected at their October Pink Out Game. 
First Row (left-right): Emma Kirklin; Leah Dukes; Adaile Daugherty; Delilah Sheldon; Wren Hall, CMH director of community relations; Shelby Roberts; Emma Larimore; Bri McGlone; and coach Natasha Hamlet. Second Row (left-right): Emily Hogan; Ashley Rash; Sarah Beals; Anna Wolf; Tara Brooks; Lily Shepard; Kallie Jo Barber and coach Krystal Allen. Not pictured: Hope White; Kaylita Jones; Corinne Ames; Trinity Patterson; Elli Burns; Emma Stewart; and Hallie Tucker.
December 04, 2017
Hospital 417-328-6000
Infocenter 417-328-6010, or 1-888-328-6010
1500 North Oakland, Bolivar, Missouri 65613
© 2019 Citizens Memorial Healthcare